About the "No-Sweat Potty Training" System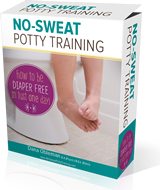 If you and your child are ready to say "goodbye" to diapers… and you're looking for a fast, fun, and tantrum-free way to get started, here's what you'll get with the No-Sweat Potty Training system:
The "No-Sweat Potty Training" Guide. A full 55 pages of easy-to-follow instructions that show you exactly what to do (and what to say to your child) every step of the way.
No-Sweat Potty Training Fast-Start Workbook. An additional 28-page resource containing checklists, daily progress sheets, nighttime training charts, and much more!
Reward Coupons, Charts & Certificates. These are great for motivating and rewarding your little one along the way! Different designs for boys & girls. 20 in all!
"No-Sweat Potty Training" Video Library. In-depth video presentations where we'll cover the finer points of potty training – and what to do when things don't go exactly as planned.
You get everything you need to get "diaper-free" in just one day!